Sept 2020
Sept 24, 2020
Hiring Software Engineers
Bumped into @JasonMcLaren while out getting coffee from @Coho and had the exact same discussion around jobs and where to post them that isn't LinkedIn (which is pretty pointless for software jobs). The question about what network or platform to post to comes up all the time when I challenge people on wasting their time with LI.
@AngelList is still the one where I get the best results – that is, I can post jobs there and get a decent flow of decent candidates automatically. And that's on their free tier – they now have paid tiers starting at $250 per month.
@StackOverFlow I have heard good things about their job posting board. Their talent page doesn't have pricing, I believe last I heard it's like $4KUSD for a promoted listing.
Also: my standard advice: if you're considering paying recruiters, just hire a full time marketing / operations / chief of staff / people position instead, and have them work on running your sourcing and hiring.
Social Mentions
OK, I'm going to see about building Social Mentions into the site as well.
Sept 22, 2020
Thanks Lance and Brooke for deep meaningful conversations today. Pointers to some of the links and articles we talked about:
---
Met up with [[Bob Summerwill]] who took a picture of me next to my [[Radrunner]]:
Lovely to see @bmann for the first time in months. On his mighty steed!

— Bob Summerwill (@BobSummerwill) September 22, 2020
---
I had a call with Daniel from [[Primeflow]] yesterday. He left a comment on LinkedIn pointing out that we covered a lot of the ground discussed in NFX's The Next 10 Years Will Be About "Market Networks". My Processing page is getting too long.
Fission Web Native iOS App
I saw a tweet that Apple is recruiting for an interesting role – "you'd contribute to Cloud File Providers and work with adopters to get their cloud storage systems integrated across the OSes". I've noticed for a while that Apple has been very careful to make storage an API – it works with iCloud and your local file system by default, but you can set it to Dropbox or Google Drive or others if you have those apps installed. This operating system stickiness through superior integrations at a very low system level.
For us at Fission, I discussed a couple of ideas with Brooke today. One, a native mobile app for Fission is key – it means that any other app on iOS that can share files we can use Fission both as a storage system, and as a target to share / copy files into.
The second idea I came up with was how, by having a native app, we can in fact pass on that ability to ALL the other apps built on the Fission webnative framework to automatically have native integration. Sign in with your Fission account, which knows all the apps that it has connected to, and then you can "Share to Fission", and select which app you want to share to.
Here's a screenshot of how you can pick between different [[Discord]] servers as an example of how existing native apps handle multi-target share sheets: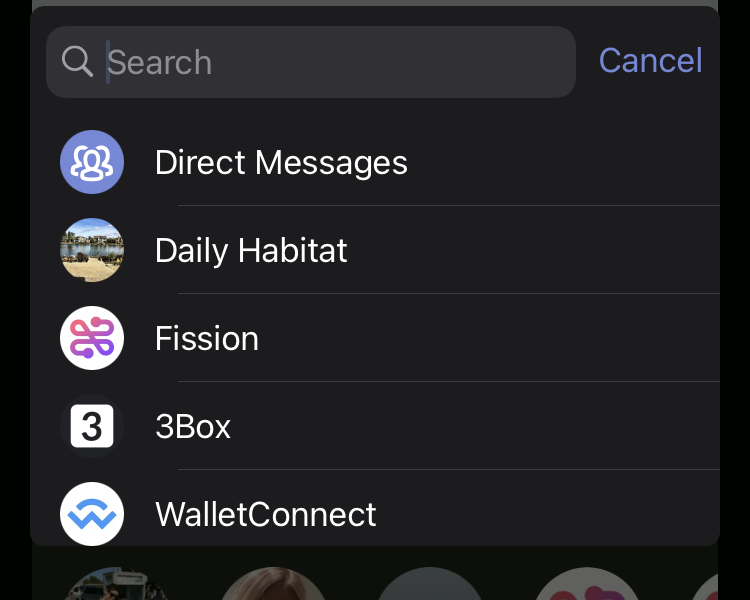 This is a whole other layer of network effects in giving a ton of apps native mobile integration. Need to talk to the [[Expo]] folks about this.
Small Business Peer Roundtable
I ran some small business / entrepreneur peer sessions in Comox that continued on as [[WeAreYQQ]]. I did something similar over lunch with folks at [[Input Cowork]] when we went for a visit last summer.
I've decided, especially as we get into the winter months, and as we continue to think about this pandemic as a way to think differently and make change happen, to do at least one mini roundtable with some small businesses and interesting people. Talked to one of the businesses today and they said yes. Thinking about whether to connect this with Venture Scouts – feels like it would be a fit, but I'm also OK with it just being a one off.
Done with LogSeq?
I think I'm done with LogSeq. It isn't currently syncing with Github reliably. It has indexed the contents of this public notes Garden as well as just basic files, and that is very interesting to me, but it doesn't work at all on mobile, and has real trouble with the amount of files that I have in this repo. Inspecting it in the browser it looks like it's storing 1.1GB.
Maybe if I split public Garden / private Gazebo into separate repos that would help.
But I think more time with Roam Research for private notes makes sense. This was working for me before, but I just went on this epic journey of looking for something that was open source / could be self hosted.
It will be interesting to see if I can import the markdown files into other systems. LogSeq uses multiple levels of hashes – which in default markdown are headings – which makes it look weird in every other system. Also, Roam can only handle 10 pages at a time.
Sept 21, 2020
Jacob invited me to the Embassy Network Slack, which we're going to use as our community gathering space for collaborators for now.
There was a relevant post on a proforma for a house in Maine that can form part of the financial aspects of a CLT.
I shared CLT Vancouver, I need to see about going in and introducing myself, and finding out more about them.
This article on Co-buying property with friends was a good overview. Some parts are overly US-centric (Canada doesn't have LLCs and some of the other structures mentioned), but the general process is great.
Further blog surgery
I went and grabbed the source for blog.bmannconsulting.com and put all the posts in the archive here as well. A number of them were bookmarks / links, which fit much better as notes. Many of the posts which I didn't bring in here are "social posts". Some of them could be good note candidates, but most of them are images and cross posts to Twitter and so on, which I'll see about importing into Micro.blog. It's going through a 2.0 update so I'll wait a while on that.
TODO I think I'm going to turn off the existing blog, point the blog subdomain at Micro.blog instead of microblog, and then I'm done shuffling things.
Sept 8th, 2020
Zoom intro with Jacob
Had a great intro call with Jacob Sayles. He shared a 10 bedroom house on Nicola Street that he's been looking at, and in general is excited about exploring shared housing options in for Vancouver CLT.
Next step is to put out a call / invite people who might be interested in actually getting started with this.
Speaker at UBC STRIVE
Spoke to the STRIVE Business and Engineering Club tonight.
They are purposefully a small group where members take an active role in deciding what to learn and who to hear from.
It was a general "tell your entrepreneurship story" session over Zoom. Encouraged them to try things, start side businesses and projects.
I was surprised that none of them had heard of [[Y Combinator]].
I told them all to get on Twitter. And I think somewhere in there I may have agreed to create a TikTok account.
None of them had ever bought a domain name – suggested that they have someone in the group research on how to do that and present it to everyone else. With ~30 group members, that's a lot of combined research and learning!
Recommended [[Tumblr]] https://tumblr.com as well for sharing / clipping links and notes. You can still map your own domain name for free.
A few things I mentioned:
Notes mentioning this note
2020
Year of the Metal Rat